"Northern Light"

Step into Northern Light and drift through the mystical lands of the Irish bards and Finnish poets with dulcet harp, bright kantele and lyric woodwinds. Valerie Klemetti Blessley gently leads listeners through the music of ancient northern lands to discover the mysteries, songs and dances of the Celtic folk harp and Finnish kantele. Your heart will smile and your toes will tap as you bask in Northern Light



Val Blessley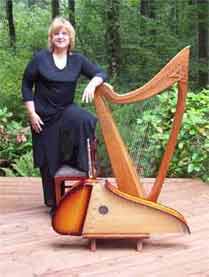 A self-described lover of "Celtinavian Music," Valerie's music reflects her Scandinavian and Irish heritage. She began playing music during childhood, when she learned to play the recorder and the flute. Valerie has studied harp with David Harper, in Albuquerque, NM and Marion Fouse in Portland, OR. Most recently, Valerie has studied kantele with Wilho Saari and Cathy Cushing of Washington state, and Dr. Arja Kastinen, a respected Finnish kantele professor.
Since the 19th century, the kantele has been the Finnish national instrument. Its history dates back about 2000 years, and is described in the epic poem, the Kalevala. In the epic, the hero Väinämöinen made the first kantele from the jawbone of a pike. Its music was so powerful that the whole world stopped to listen. The original instrument was carved from a single piece of wood with 5 strings across the sound board.


Listen to Valerie on iTunes Today!